Business and Trademark Attorney Firm Minott Gore, P.A. celebrates its ten year anniversary!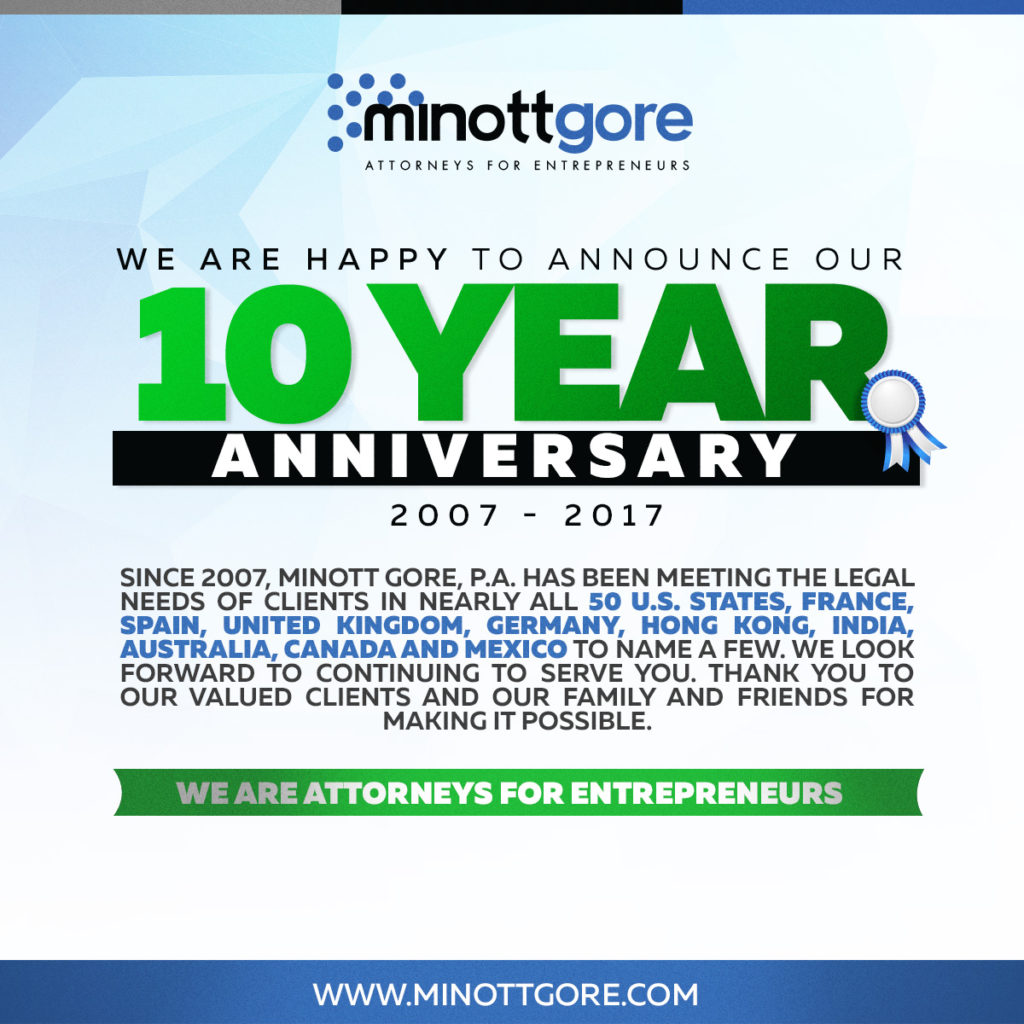 The Story Behind Our Law Firm
We launched our firm on July 4, 2007, with one simple idea. We wanted to provide first rate, professional legal services to entrepreneurs, start-ups and small businesses at affordable prices. After working for several years at some of the nation's biggest law firms, we took the skills, knowledge and experience we acquired and set out to create a new kind of law firm. We believed, then and still now, that modern business requires modern, technology oriented legal assistance. We built a law firm with a deep and specialized knowledge base, and also responsive and adaptable to the needs of today's entrepreneur and small busin...

Intellectual Property Agreements To Protect Your Trademark and Brand Name
In addition to providing our clients with professional
U.S trademark search
and application services, the trademark attorneys at
Minott Gore, P.A.
also well-versed in preparing a wide range of
Intellectual Property Agreements
you may find necessary to obtain and maintain complete control over your brand and intellectual property portfolio. Taking the proactive step of obtaining
federal trademark registration
for your brand name is only one aspect of
June 14, 2016
Read more

Annual
Reports
for your Florida corporation or limited liability company (LLC) are due to the Florida Department of State on or before
May 1, 2016
. After that date, a late fee of $400.00 applies to all filings and cannot be waived.
Annual Reports
must be filed with the Florida Department of State Division of Corporations every year to ensure continued active registration of your Florida company. Failure to file the required Report will result in dissolution of your company.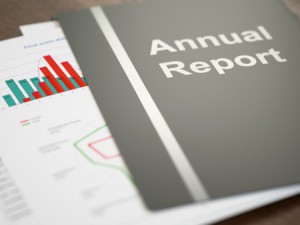 The
business law attorneys
at
Minott Gore P.A.
can assist with your Annual Report filing.  We offer

With the increased legalization of marijuana for medicinal, as well as recreational, use across 23 states and the District of Columbia, it comes as no surprise that cannabis is becoming big business. By 2019, it's estimated that the marijuana industry could reach
annual revenues exceeding $11 billion
. There's even a term for it, canna-business. The rapid growth of the medical and recreational cannabis industry has resulted in a wide variety of businesses directly and indirectly related to the sale, support, distribution and consumption of marijuana. There are growers, dispensaries, accessory makers, bakers, bars and innumerable collateral goods (mints, tea, lip gloss), making legalized marijuana one of the fastest growing industries in America today.
October 16, 2015
Read more

TOP TEN CHECK POINTS FOR SETTING UP A FLORIDA COMPANY
1. Select the proper legal entity for your business, whether it's a limited partnership (LP), a limited liability company (LLC), a corporation or a professional association (PA). 2. Search and apply for
federal trademark registration
of the brand name you want to use in connection with your goods and/or services. 3. Prepare and file custom Articles of Organization (for an LLC) or Articles of Incorporation (for a corporation or PA), with the Florida Department of State. 4. Obtain your company's Employer Identification Number (EIN). This is the company's tax ID number and will be required to open a business bank account. 5. Register your Fictitious (D/B/A) Name. If your trade name is different than your legal company name, you must file a Fictitious Name registration with the Department of State....

This month, we consider a little known trademark designation know as Trademark Geographical Indications. What exactly is a Geographical Indication (GI), how are they protected and how do they differ from ordinary trademarks? We turned to WIPO, the
World Intellectual Property Organization
, for some answers and also share some common Geographical indication examples.
What is a Trademark Geographical Indication?
A geographical indication is a sign used on products that have a specific geographical origin and possess qualities or a reputation that are due to that origin. In order to function as a GI, a sign must identify a product as originating in a given place. In addition, the qualities, characteristics or reputation of the product should be essentially due to the place of origin. Since the qualities depend on the geographical place of production, there is a clear link between the product an...

If you have, or are starting, a business, there are several legal documents and contracts you may encounter in the early stages of your company. Having the appropriate agreements in place will ensure your interests and property are protected as you delve into the business of building relationships with co-owners, employees, contractors, third-party vendors and possibly, investors. Here are a few of the most common documents and contracts new business owners should consider in their legal arsenal. Florida Limited Liability Company (LLC) Operating Agreement An Operating Agreement is the governing document for a Florida limited liability company (LLC). It is a comprehensive company agreement covering ownership interests, voting rights, adding or removing members, selling or transferring interests, and succession planning, to name a few. Florida Corporation Shareholders' Agreement A Shareholders' (or Stockholders') Agreement is the governin...

One of the basic principles of trademark law in the United States is that the first party to adopt and
use
a mark has the right to continued, exclusive
use
of that mark in connection with their goods and/or services, and as such, they may prevent others from using the same mark or something similar that may cause confusion among prospective customers. However, the Lanham Trademark Act contains a provision under which an eligible trademark applicant may request issuance of a registration
concurrent
with the registration of a conflicting mark. This is known as a "
concurrent
use
registration."
(more…)
...

What makes a city a great entrepreneurial hub? What does it take to attract top talent, incubate home grown technologies and launch innovative new ideas into the business stratosphere? These are the kinds of questions considered at
StartUp City: Miami
, hosted by Atlantic Magazine and the Knight Foundation and held at the fantastic New World Center on Miami Beach last week. I keep telling everyone I meet and everyone who asks me "why Miami?..." Miami is on the cusp of becoming the next great American city. We have beautiful weather and the beach, but there's something else truly exciting going on here. In the years since I've called South Florida home, there's a new energy, a buzzing entrepreneurial spirit that's taking hold of the city like never before. Sure, Miami has always had an extremely high concentration of small businesses and entrepreneurship. But this is different. This is 21st century entrepreneu...

What is an Intent-to-Use Trademark Application and is it worth your while (and money) to file one? Trademark owners who are not yet using their trademarks in commerce or who do not have proper specimens showing use of their trademark may file an Intent to Use trademark application with the United States Patent and Trademark Office (USPTO). The Intent-to-Use application is based on Section 1(b) of the Trademark Act. The applicant must include a sworn statement of their bona fide intention to use the mark and must begin actual use of the mark in commerce before the USPTO will allow trademark registration. Once the applicant makes actual use of their mark in commerce, the Applicant must notify the USPTO of such use. An Amendment to Allege Use may be filed any time between the filing date of the application and the date the USPTO approves the mark for publication. If an Amendment to Allege Use is not filed and the ITU mark passes the USPTO Examiner's initial review and publication pe...